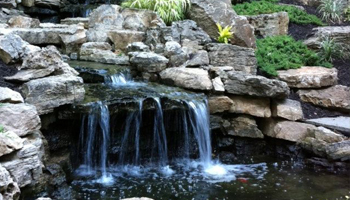 Once again its that time of the year. Temperatures are colder, days are shorter and wetter, and its time to get your ponds, water gardens, and water features ready for fall and winter. Some of you chose to keep your ponds running year round, and some of you close them down. However you handle it, Backyard Blessings is here to assist you in keeping your feature the way you want it for the fall and winter season. Here are our top 5 winterization tips.
1. Install Pond Netting –
October is a good time to install your pond net in order to keep out leaves, limbs, and various debris. A clogged pond from large amounts of leaves can suffocate your fish and the leaf removal process can be difficult. We carry various sizes of pond nets to fit your specific needs. We also build custom pvc canopies for the installation of your pond net, or have all the materials available for all you D-I-Y Do it yourself-ers.
2. Install a De-Icer
De-icers, also known as heaters for your pond are essential for one of two reasons:
One, they create a hole in the ice to allow the dangerous gasses to escape, preventing your fish from sickness. Two, de-icers are placed near skimmer boxes or submerged pumps to prevent them from freezing solid and breaking. We always have de-icers in stock, come in and get you pond de-icer as soon as possible. If something happens to the one you already have, call us during the winter you can pick one up or we will deliver one to you.
3. Install an Aerator
An aerator for your pond is almost always a good thing. During peak seasons its beneficial, and absolutely beneficial for the fall and winter time. Oxygen plays an important role into the health and functionality of any pond. During the winter time, the aerator assists in oxygenation, ice prevention, and release of harmful gases to your fish.
4. Use Necessary Chemicals
There are several chemicals, enzymes, and treatments available on the market. Over the years we have narrowed down the selection to a few products that work very well. Call us or visit our retail location and we can help you choose the best method for your pond and water feature.
5. ONLY USE Fall/Winter Fish Food
Fish are cold blooded creatures. Their metabolism, habits, and behavior change in the winter time. Be sure to change your fish food over to a fall and winter food also known as wheat germ. We have wheat germ, small and large pellet, large and small quantity. STOP feeding altogether once water temp is below 45 degrees F. There are many methods to fall and winter preparation on water features. Call or stop in today with your questions and needs and we will work with you to establish the best custom scenario for yours. Call 317-899-5459 and schedule your winterization today!